QuickBooks
QuickBooks® Information
SMS has been providing software training and support for QuickBooks® since 1999.
Support and training is provided by a Certified QuickBooks® ProAdvisor with many years of experience.
Some of the services we provide include: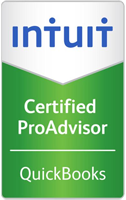 QuickBooks® is a very powerful financial management application. The program is designed to handle all the aspects of small business bookkeeping. You can use it for payroll, invoicing, tracking payables and receivables, job costing, tracking income versus expenses, maintaining customer contact information, producing financial reports, and more. Our Certified QuickBooks® ProAdvisors and QuickBooks consultants can help you get started or help you get more from the #1 small-business finance software. Free yourself from paperwork and spend less time on accounting so you can spend more time on your business!
Software Made Simple (SMS) can help you:
Install your software and hardware.
Set up your chart of accounts.
Customize your forms and reports.
Import data from your existing applications (employees,customers, vendors).
Set up your bank account and credit card accounts.
Set up payroll.
Reconcile your accounts.
Print your payroll tax forms and your sales tax forms.
Train you to efficiently use your system.
Do you still ring up sales on traditional cash registers, and then manually transfer the sales data into accounting programs? QuickBooks® POS can streamline the process, providing immediate records for inventory, sales orders and layaways. It can track customer purchase history, employee commissions, monitor web store information and much more.
Software Made Simple can install your hardware and software and link it to your QuickBooks® financial software.
Call to discuss your needs and request a quote (706) 320-3990, or fill out our form online!
Software Made Simple offers several options for training:
Group or Individual Training – Customized and Onsite
QuickBooks® Classes – Structured and located at our Training Center
Group or Individual Training
These training sessions are customized for you based on your needs. We can provide this training at your location, or you can schedule the training at our training center. We also offer the training remotely as a webinar.
QuicKBooks® Classes
We offer classes that are open to the general public. Some of the classes we offer are listed below:
This seminar is for you if:

You have just purchased QuickBooks® and need help setting it up
You are a new user of QuickBooks®
You would like the opportunity to ask questions and benefit from other QuickBooks® user's experiences.

Topics include:

Setting up a company
Working with lists
Setting up inventory
Selling your product
Invoicing for services
Processing payments
Working with bank accounts
Entering and paying bills
Using the EasyStep Interview

This course is for you if:

You are already using QuickBooks® and want to take advantage of more advanced features.

Topics include:

Customizing forms
Using other types of QuickBooks® accounts (Credit Cards, loans, fixed assets, etc.)
Creating and customizing reports and graphs
Tracking and paying sales tax
Preparing payroll with QuickBooks
Using online banking
Sharing files with an accountant
Preparing estimates
Time tracking
Job Costing
Preparing and printing letters
This course is for you if you want to manage your own payroll.
Payroll is easy if you subscribe to Intuit's Payroll service for a reasonable fee.
You can download the federal and state tax tables and forms needed to prepare your payroll and submit your tax payments, reports, and forms related to payroll.
This seminar will guide you through the entire process!
(We can also come to your site or remotely assist you in setting up your payroll).
Do you need to feed data into QuickBooks® from another source, or do you need to export data out of QuickBooks® and integrate it with another software application?
We can help! Our support analysts have years of data integration experience!
Call to discuss your needs and request a quote (706) 320-3990, or fill out our form online!
Do you need custom reports that are not currently provided in QuickBooks®? We can use standard industry report-writing tools to create custom reports for you.
Call to discuss your reporting needs and request a quote (706) 320-3990, or fill out our form online!